April 20th-22nd
Synopsis
She Loves Me was adapted from the 1937 play Parfumerie by Miklós Lászlo. It is a musical written by Joe Masteroff, with music by Jerry Bock and lyrics by Sheldon Harnick. There are even movies inspired by it, including You've Got Mail featuring Meg Ryan and Tom Hanks.
She Loves Me is the story of a small European parfumerie, Maraczek's, and its many employees. As the story progresses, a relationship unfolds through anonymous letters between Georg Nowack and Amalia Balash. But there's a catch: they both work at Maraczek's! Concurrent with the rendezvous of love, there is an equal amount of comical drama going on with other shop clerks, including the tension-filled relationship between Ilona Ritter and Steven Kodaly, as well as a spunky young boy, Arpad, who wants to work at Maraczek's with the other clerks and his good friend Sipos. From April 20-22, follow these characters through the pitfalls and perils of love, friendships, and selling perfume!
Cast List
Amalia Balash – Elizabeth Clancy
Georg Nowack – Cameron Parker
Ilona Ritter – Ava Marcus
Steven Kodaly – Sam Bailey
Ladislav Sipos – Maya Pasternack
Arpad Laszlo – Izzy Levit
Zoltan Maraczek – Jack McCullough
Waiter – Tenzin Joh
Busboy – Pearl McShane
Keller / Nurse – Katie Neary
Store Clerks – Lucas Nelson & Tess Woolard
Customers – Lucy San Chirico, Zoe Palmer, Pearl McShane, Alessandra Simmons, Juliet Woolard, Henry Yearley, Grace Deneen, Maya Yotam, Lucas Nelson, & Delaney Free
Café Patrons – Alessandra Simmons, Lucas Nelson, Katie Neary, Zoe Palmer, Delaney Free, Juliet Woolard, & Maya Yotam
Carolers – Lucy San Chirico, Grace Deneen, Tess Woolard, Zoe Palmer, Katie Neary, Elijah Warriner, Tenzin Joh, & Henry Yearley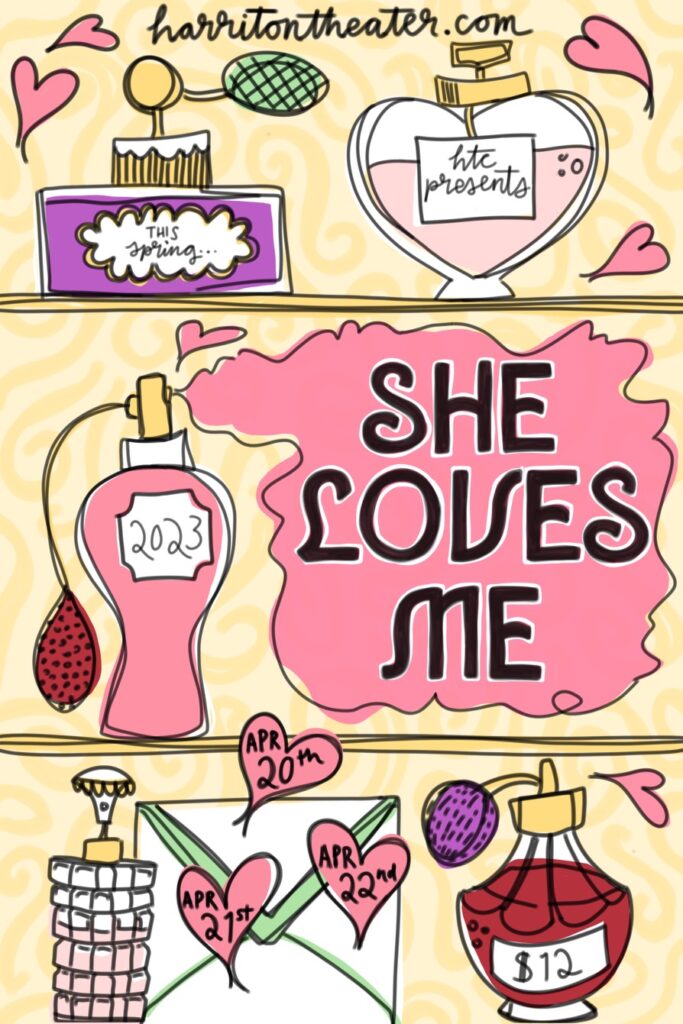 Reviews
Thank you to the Philadelphia Independence Awards for reviewing HTC's production of She Loves Me!
This production hit every category from performance to technicality and was exclusive because She Loves Me is not overdone. Casting was done very well and diverse decisions were made. I want to thank you for putting on such a high quality production, especially one from a classical era that was witty, charming, and different.
This is a deceptively challenging show and you all really did the work. From clear, articulate vocals, to well textured characterizations, She Loves Me was pure elegance. Really lovely work all the way around. Congratulations!
The ensemble worked together seamlessly throughout the entire production. Every actor on stage stayed engaged and in character throughout every scene, even if they were background characters at specific moments. Their characters worked well individually and as an ensemble. Each cast member was animated and energetic as they brought the story and atmosphere to life. Many of the vocals were strong, and the dances lit up the stage.
Lighting and sound were superb in this musical and the live orchestra further enhanced the production. I thought the red mood lights for the cafe scenes were great, and the set was fully functional and easy to transition from Maraczek's perfume store to the outside exterior facade to the small bedroom set pieces.
The costumes were lovely and brought a lot of exterior personality to each character. Each season was handled smartly, with just the right number of extra pieces so that the show could keep moving without actors having to add or subtract too much. In addition, the makeup made everyone clear to the eye from afar while still looking natural and appropriate. I did note that Ilona had a more dramatic look to reflect her character. I also appreciated the grey in Mr. Maraczek's hair to add to the fact that he was a slightly older character than the rest. The props department did a great job of dressing the set and providing so many carried props to all the actors. They elevated each scene by adding just the right amount of decor to the various locations.
The publicity department deserves kudos for the consistent use of an attractive design, and for drumming up support on social media, and ads in the program. HTC's choreography duo certainly lived up to the challenge of designing the dance routines, which were creative and fun, while also evoking the spirit of the golden age of musical theater.
Promotional Video