April 4th-6th, 2019
Synopsis
The electrifying adaptation of Mel Brooks' monstrously funny film will leave you in stitches.
Grandson of the infamous Victor Frankenstein, Frederick Frankenstein (pronounced "Fronk-en-steen") inherits his family's estate in Transylvania. With the help of a hunchbacked sidekick, Igor (pronounced "Eye-gore"), and a leggy lab assistant, Inga (pronounced normally), Frederick finds himself in the mad scientist shoes of his ancestors. "It's alive!" he exclaims as he brings to life a creature to rival his grandfather's.
Every bit as relevant to audience members who will remember the original as it will be to newcomers, Young Frankenstein has all the of panache of the screen sensation with a little extra theatrical flair added. Young Frankenstein is scientifically proven, monstrously good entertainment.
Cast List
Frederick Frankenstein – Jaspar Albright
The Monster – Jackson Eisner
Igor – Ben Newman
Inga – Nina Gold
Elizabeth Benning – Jordan Kreindler
Frau Blücher – Allegra Greenawalt
Inspector Hans Kemp/Werewolf – Arrion Johnson
Blind Hermit/Ensemble – Jacqueline Kelly
Dr. Victor Von Frankenstein/Dracula/Ensemble – Patrick McCann
Ziggy/Ensemble – Julia Green
Hilltop/Villager/ Ensemble – Andreas Kaiser
Steward/Ensemble – Liv Twomey
Herald/Ensemble – Henry McCullough
Purser/Ensemble – Sammy Biglin
Seeing off Woman/Ensemble – Emily Mooney
Telegraph Boy/Ensemble – Audrey Sigler
Bob the Astrologer/Ensemble – Will Coleman
Villager/Ensemble – James Twomey
Villager/Ensemble – Aiden Kaliner
Villager/Sasha – Hair/Ensemble – Katherine Sloan
Villager/Ensemble – Sophia Fox
Shoeshine/Ensemble – Cliffe Edmonds
Basha – Nails/Ensemble – Kari Stein
Tasha – Wardrobe/Ensemble – Gladia Boldt
Rasa – Appointments/Ensemble – Gwen Rix
Ensemble – Holly Montesino, Nalani Scheiner, Freya Norwood, Angelina DeMonte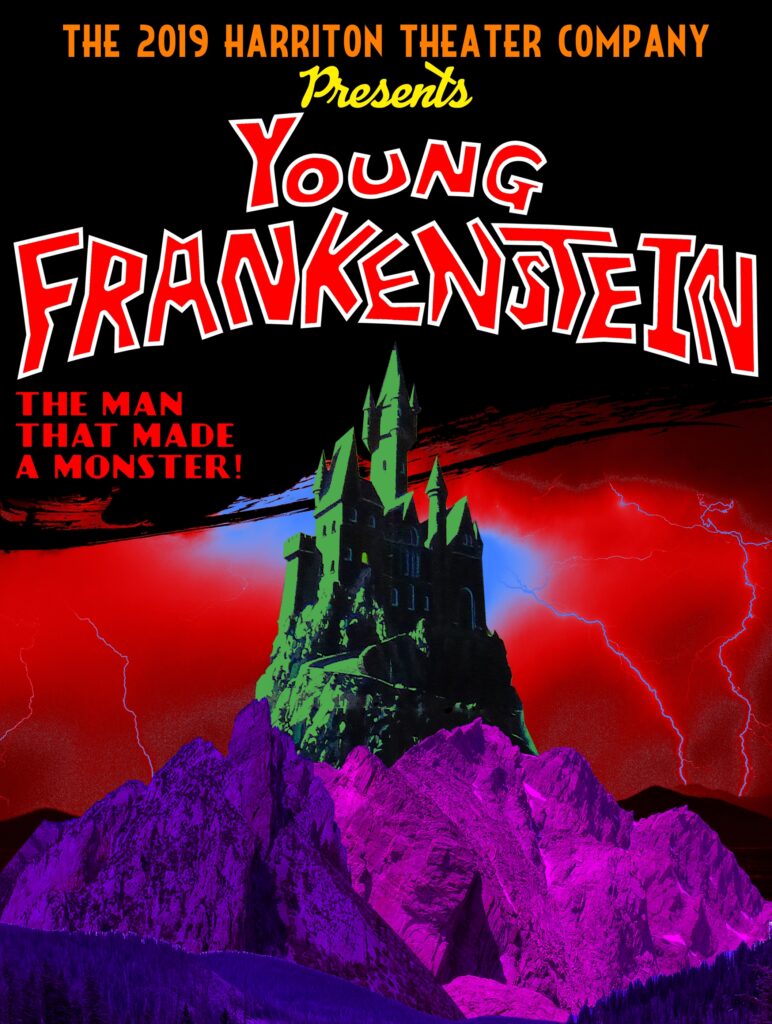 Reviews
Thank you to the Cappies critics who came and reviewed HTC's production of Young Frankenstein. The following two reviews were chosen to be published in The Philadelphia Inquirer.
"It's alive!" But not to worry, because Harriton Theater Company's relevant, revenant production of Young Frankenstein has everything under control.

Mel Brooks's Young Frankenstein based on his popular film of the same title is a raunchy comedy, making fun of the horror genre and the clichés that came with it. The musical tells the story of Dr. Frederick Frankenstein, grandson of infamously acclaimed mad-scientist Victor Frankenstein, who is so offended by his family name that in order to avoid the connection, pronounces it as "Fronk-en-steen". However, when the news of his grandfather's death reaches him in New York, he must leave his fiancé to claim the family's Transylvania estate. While there, Frederick ends up receiving much more than he bargained for.

HTC's production was a monster of a show, with ghostly lighting effects, supernaturally splendid characterization, and freakishly fantastic comedic timing. The leading cast was to die for, the sets were possessed with craft and intricacy, and the orchestra was shockingly powerful.

Leading man Dr. Frederick Frankenstein (Jaspar Albright) filled each scene with the presence of a naive, yet more than competent scientist. His larger than life characterization was exquisite. His Transylvanian partner Inga (Nina Gold) was equally powerful, providing an excellent foil to Frankenstein's anxiety, with her lively, exuberant, flirtatious energy that filled the large stage.

The supporting cast provided the spark of life to every scene! Igor (Ben Newman) was rib-tickling-ly, side-splittingly, dying and coming back to life-ingly hysterical. Dry delivery and audience mugging put Igor in the driver's seat. Frau Blücher (Allegra Greenawalt) was equally jocular. Her droll and well-timed delivery was the electric cherry on top.

From the lively lighting to the outstanding orchestration, technical elements were powerfully executed. Lighting was moody at times, while providing cartoony colorful fun to the comedic scenes. Sometimes spotty, the sound was corrected quickly when there was the occasional mic error, and was otherwise excellent. The sets were amazing feats of construction, the main attraction being two very large modular rolling panels with built-in stairs and catwalks. The small pit orchestra offered Broadway quality sound that filled the large theater easily.

Harriton Theater Company's Young Frankenstein reanimated the heartstrings, and electrified the funny-bone. Gather your mob to see this delightful production!

Lionel McCulloch – PA Leadership Charter School's Center for Performing and Fine Arts
Harriton High School rose both the dead and the bar for freaky, comedic musicals in its production of Young Frankenstein.

The musical was written by Mel Brooks and Thomas Meehan and based off the 1974 movie of the same name. It is a parody of the horror film genre and features many well-known characters and settings such as Transylvania and the creations of a Doctor Frankenstein. The story follows the grandson of the original Frankenstein, Frederick Frankenstein, as he travels back to his grandfather's castle after the infamous scientist's death and begins engaging with his grandfather's old friends and their suspicious activities.

Young Frankenstein relied on soaring vocals and intriguing special effects to suck the audience in to its wonky world of zombies and werewolves. Many cast members were clearly fully immersed in their characters, which helped to sell the overall performance.

The lead couple of the show, Inga and Frederick, played by Nina Gold and Jaspar Albright, displayed wonderful chemistry and managed mature scenes admirably well. Both of their vocals shone, dominating selections such as "Roll in the Hay" and "The Brain". Supporting and lurking around these two was Igor (Ben Newman). Newman managed to spend the entire show hunched over while his comedic lines were always delivered with perfect timing and enunciation to get the audience laughing.

Other standout performances came from the Monster (Jackson Eisner) and Frau Blücher (Allegra Greenawalt). The Monster mainly expressed himself through grunting and moaning, which Eisner interpreted and displayed creatively. Frau Blücher became the heart of the comedy with extremely entertaining gestures and line pronunciations. Greenawalt's song "He Vas My Boyfriend' was especially humorous and magnificently delivered.

Some of the most striking elements of the show were its technical aspects. An expansive set that rolled and spun added depth to the setting and production as a whole. Other effects such as fog and a gigantic puppet helped to immerse the audience in the spooky experience. A few sound issues compromised some scenes, however the cast rebounded from these with increasing enthusiasm and energy. The student orchestra was incredible in both sound and precision, filling the auditorium with the tricky song selections.

The cast of Young Frankenstein should be commended for their performance of this eccentric yet heartwarming tale.

Alicia Method – Bordentown Regional High School
To learn more about the Cappies Program, visit cappies.com/gpc.
Promotional Video