March 29th-April 1st, 2017
Synopsis
Gazpacho, anyone? A musical adaptation of Pedro Almodóvar's beloved film of the same name, Women On The Verge Of A Nervous Breakdown is the brainchild of the talented team behind Dirty Rotten Scoundrels. Preserving the unusual and exhilarating tone and style of the Oscar-nominated film, Women On The Verge will delight both fans of the film and newcomers to the raucous tale.
Both touching and hilarious, Women On The Verge is a story about women and the men who pursue them… finding them, losing them, needing them, and rejecting them. At the center is Pepa, whose friends and lovers are blazing a trail through 1980s Madrid. Along with Pepa, there's her missing (possibly philandering) lover, Ivan; his ex-wife of questionable sanity, Lucia; their son Carlos; Pepa's friend, Candela, and her terrorist boyfriend; a power-suited lawyer, and a taxi driver who dispenses tissues, mints and advice in equal proportion. Mayhem and comic madness abound, balanced by the empathy and heart that are trademarks of Almodóvar's work.
Cast List

Pepa – Allegra Greenawalt
Ivan – Ben Newman
Lucia – Aurora Murray
Carlos – Max Flora
Marisa – Rachel Bershad
Paulina – Anna Fleming
Candela – Nina Gold
Taxi Driver – Josh Gold
Cristina/Ensemble – Analyn Sil
Rosalia/Ensemble – Jacqueline Kelly
Hector/Ensemble – Jaspar Albright
Doctor/Ensemble – Alayna Robertson
Ivan's Concierge/Ensemble – Harleigh Myerovich
Ambite/Ensemble – Radcliffe Edmonds
Pepa's Concierge/Ensemble – Melanie Metz
Malik/Detective/Ensemble – Jon Zamsky
Telephone Repairman/Phone Booth Guy/Ensemble – Jackson Eisner
Makeup Artist/Ensemble – Claudia Combet
Hair Stylists/Ensemble – Zoey Greenberg, Katherine Sloane
Photographer/Ensemble – Kit Meiler
News Reader/Ensemble – Abby Perlstein
Magistrates/Ensemble – Lacey Berk, Callie Eisner, Emily Sinrod
Chief Inspector/Ensemble – Tom Schmitz
Ana/Ensemble – Emma Johnson
Security Guards/Ensemble – Keith Scutchings, Amanda Forssell
Bystander/Ensemble – Emily Mooney
Ensemble – Adelle Wilkin, Rachel Perlstein, Simra Ansar, Blandine Heron, Vidhi Dwivedi, Lauren Izenberg, Kate Skorupski, Sofia Leedy, Jordan Kriendler, Lorraine Ruppert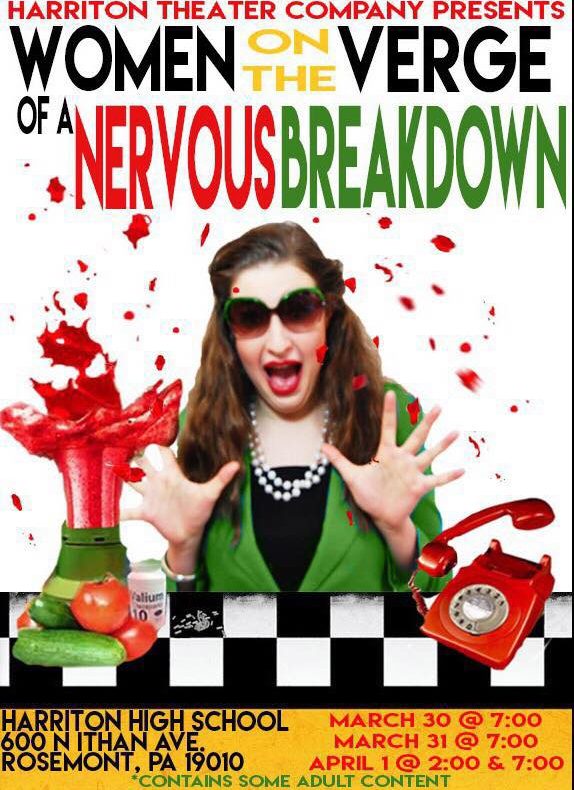 Reviews
Thank you to the Cappies critics who came and reviewed HTC's production of Women on the Verge. The following two reviews were chosen to be published in The Philadelphia Inquirer.
We all have moments when it feels like we are going to go insane. However, we normally don't date terrorists, spike our gazpacho with sedatives, or coincidentally visit the house of our father's mistress. This perfect balance of whimsicality and relatability is exactly what makes Women on the Verge of a Nervous Breakdown endearing, and the Harriton Theater Company did a great job of bringing this story to life.

Women on the Verge of a Nervous Breakdown tells the story of four women in Madrid and their struggles with romance. Each woman is driven to the brink of insanity, and over a two-day span we see their lives fall apart and back together through the trials of love.

There couldn't have been a better person to open the show than Josh Gold as Taxi Driver. Bursting with energy and beaming an award-winning smile, Gold had the audience smiling and excited for the story he was about to narrate. Once the focus was turned over to Allegra Greenawalt as Pepa, she did not disappoint. Greenawalt had a mature way about her; her poised stance and powerful vocals combined to make a very strong leading lady.

A major standout performance was Nina Gold as Candela. Between her hilarious comedic timing, consistent accent, stamina, and larger than life stage presence, Gold gave a performance to remember. A particularly strong moment was her incredibly funny solo "Model Behavior". Max Flora was extremely lovable as Carlos, Aurora Murray (Lucia) had the audience captivated during her solo "Invisible", and Ben Newman (Ivan) was swoon-worthy with his crooner vocals. Although the ensemble sometimes had trouble projecting, their variety of character and energy on stage made them enjoyable to watch.

Auggie Gerike and Mandy DiJacklin should be proud of their set design. Everything on stage looked both time and location appropriate while still being very visually appealing. The lighting by Emma Danz was overall strong, despite the occasional moments of a cast member being briefly out of light. Microphones were a bit problematic at times, but it was made up for by the various sound effects (doors ringing, voice mail beeps, etc.) having perfect timing.

The Harriton Theater Company had a challenge ahead of them bringing audiences into such an obscure musical, then keeping that audience engaged. However, they faced that challenge head on and put on a production that I thoroughly enjoyed. Bravo to all involved!

Lauren Quigley – Plymouth Whitemarsh High School
With impressive voices and a blender-full of homemade gazpacho, Harriton High School's production of Women on the Verge of a Nervous Breakdown charmed audiences with its take on Madrid in the '80s. The original production of the musical, with a book and lyrics by David Yazbek and Jeffrey Lane, premiered on Broadway in 2010.

Women on the Verge of a Nervous Breakdown follows Pepa, a young actress who is suddenly dumped by her lover, Ivan. As Pepa searches for answers, she, along with her best friend, Candela, learns that Ivan is not who he claims to be, discovering that he has an ex-wife (Lucia), a son (Carlos), and another mistress (Paulina). When these storylines converge, comedic chaos floods the streets of Madrid.

Harriton High School's production was grounded by the impressive student-run orchestra. Each pit member kept the show alive by energetically performing the show's score, while adding a touch of fun that the musical's Spanish inspired soundtrack calls for.

Allegra Greenawalt tackled the role of Pepa with a melodramatic attitude, authentic Spanish accent, and shimmering vocals. Through her facial expressions and physical reactions, Greenawalt made her character's story feel real. She soared during "Lovesick" and, along with Ben Newman (Ivan), created the beautifully heart-wrenching "Lie to Me". Max Flora (Carlos) and Nina Gold (Candela) maintained great stage presence and chemistry throughout the show. In addition, Gold stole the show during "Model Behavior", where she ran around the entire stage while singing on pitch and maintaining her thick Spanish accent. All four leading women (Allegra Greenawalt, Nina Gold, Aurora Murray, Rachel Bershad) surprised the audience at the end of the show with their solid four-part harmonies in "Finale".

Additionally, Harriton High School's production featured many supporting roles, all of whom added bouts of punch lines and humorous musings to their scenes. In particular, Analyn Sil (Christina), Melanie Metz (Pepa's Concierge), and Josh Gold (Taxi Driver) gave robust performances.

In terms of technical elements, the set design (Auggie Gerike, Mandy DiJacklin) and costume (Lily Strailey, Jamie Epstein, Miranda Brennan) crews truly embodied the '80s by incorporating bright pops of color, including neon reds and blues, into their designs. While there were some sound errors, the sound designer (Kate Seltzer) and the entire cast handled the situation like professionals by innovating clever and quick fixes to keep the show moving.

Harriton High School's production of Women on the Verge of a Nervous Breakdown truly showcased one woman's comedic and "tangled" journey with love.

Brendan Carr – Germantown Academy
To learn more about the Cappies Program, visit cappies.com/gpc.