November 17th-20th
Synopsis
The Curious Savage, written by John Patrick, tells the story of Ethel P. Savage, a recent widow and millionaire. This 1950s comedy is a heartwarming story which contrasts avarice and generosity, challenging the audience's definition of "normalcy." The over-the-top comedic characters are sure to have the audience laughing.
Ethel Savage is left with 10 million dollars from her late husband, and her plans to philanthropize are rejected by her stepchildren. In hopes to have the money themselves, the stepchildren send Mrs. Savage to a sanatorium called The Cloisters. While there, she meets 5 residents who show Ethel kindness and loyalty, quite a contrast to her stepchildren. Throughout the play, she realizes that it is with The Cloisters that Mrs. Savage finds family.
Remember to take an umbrella, it's raining!
Cast List
Florence – Ava Susser-Stein
Fairy May – Nel Blinman
Mrs. Paddy – Liv Twomey
Jeffrey – Aiden Kaliner
Hannibal – Gage Klaumenzer
Mrs. Savage – Ally Fenton
Titus – Sam Bailey
Samuel – Jack McCullough
Lily Belle – Julia Halpern
Miss Wilhelmina – Angelina DeMonte
Dr. Emmett – Holly Montesino
Cloisters Staff – Lillian Klatte, Adrian Proca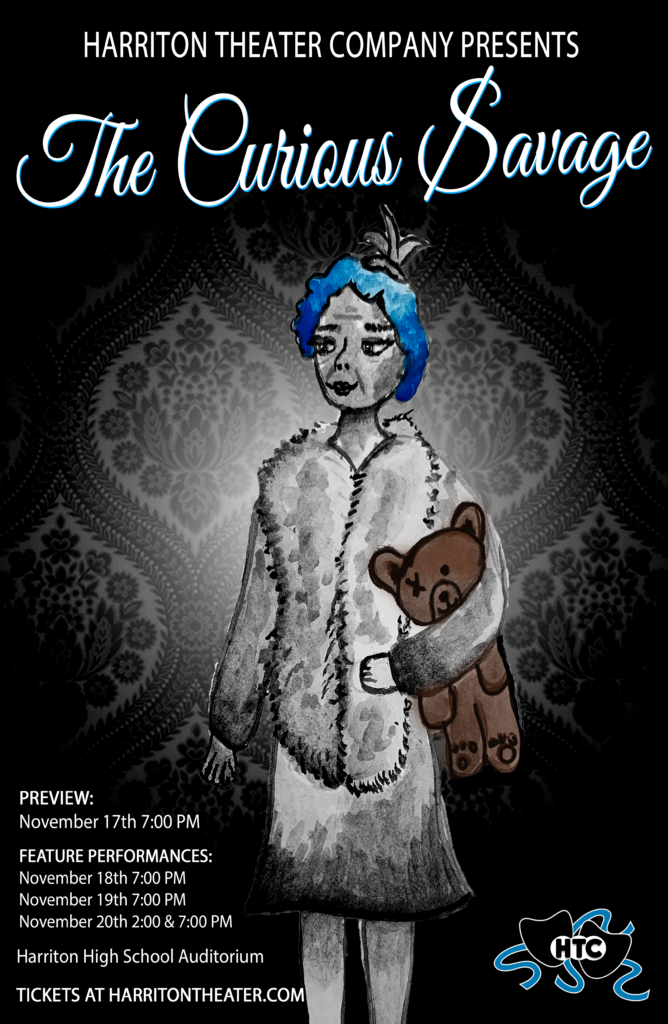 Reviews
Thank you to the Cappies critics who came and reviewed HTC's production of The Curious Savage! The following two reviews were published first and second on the Cappies Website.
Although Harriton High School set the stage for a black and white performance, their production of The Curious Savage encouraged audiences to question if life really should be viewed with a monochrome lens.

In order to attain her wealth, Mrs. Savage's three stepchildren send her to a mental institution called The Cloisters. As Mrs. Savage befriends the quirky and lovable residents of The Cloisters, it is revealed that she hid ten million dollars left to her by her late husband. Mrs. Savage's thrill for mischief escalates the rage of her stepchildren, and as The Cloisters inhabitants and Savage children interact, the audience is encouraged to ponder who the real savages are.

Both the technical aspects and acting abilities in Harriton High School's production of The Curious Savage were quite impressive. The tech crew utilized their creativity, building a realistic black and white setting which established the tone of the play. The gait and mannerisms of each actor was specific to their role. This was especially effective when creating juxtaposition between The Cloisters residents and the Savage children. Additionally, the actors never once broke character. Even if an actor did not have many lines, they continued to react realistically without drawing the audience's attention away from the central focus of the scene.

Ally Fenton, playing Mrs. Savage, had a commanding stage presence. Onstage for the majority of the show, Fenton was assigned a difficult role, but continuously portrayed Mrs. Savage's grace, humor, and mischievous tendencies with ease.

The Cloisters residents (Ava Susser-Stein, Gage Klaumenzer, Nel Blinman, Aiden Kaliner, and Olivia Twomey) brought warmth and humor to the production. Each actor was clearly dedicated to their role, and their interactions were reminiscent of a real family. The Savage children (Sam Bailey, Julia Halpern, and Jack McCullough) had distinct body language, differentiating their personalities while simultaneously conveying their identical, wealth-driven goals. Bailey, Halpern, and McCullough beautifully displayed the thoughts of their characters while their fury and resentment slowly grew as the show progressed.

Inspired by the 1950s time period, the Harriton High School tech crew established a completely black and white setting. The grayscale set, designed by Sophie Baskin, perfectly fit the tone and atmosphere of the show, and the black and white props (Nel Blinman, Marlena Marg Bracken, and Alice Deutsch) completed the scene. This theme was continued by the detailed costuming of Julia Hoeffner, Tess McCullough, and Tommy McShane. Many of The Cloisters residents had a distinctive pop of color in their outfits, acting as a small but impactful contrast to the costumes of the Savage children.

The precise acting choices and well thought-out technical designs of Harriton High School's The Curious Savage provided a delightful and insightful experience for audiences.

Katie Locke – Episcopal Academy
Ten million dollars gone missing? A failed actress committed to a sanatorium? Three top-society siblings meet their ruin? Harriton's The Curious Savage has all this and more. When desperation sets in, who is really mad, and who is sane?

John Patrick's 1950 comedy is a quirky, fast-paced story about the relativity of sanity and finding your true family. After the passing of her husband, Mrs. Ethel P. Savage inherited a hefty sum of 10 million dollars in the form of half-million dollar bonds. Seeking to claim the cash for themselves, her three step-children commit her to The Cloisters, a sanatorium housing a variety of endearing patients.

Harriton's students transformed the stage into a time machine. Everything was taken into account to take the audience back in time. The set was painted black and white, lighting gels were modified, and classical music was played between scenes by a three-person pit orchestra. Stepping into Harriton's auditorium was like stepping onto the set of a 50s TV show!

Mrs. Savage herself was played by Ally Fenton, whose theatrics and charismatic expressions amazed. Fenton displayed a spectacular range of emotions, from making tender-hearted connections, to performing in a most extravagant manner. Her grandiose way of speaking, coupled with her grand flourishes and sweeping gestures, dominated the stage.

The supporting cast brought a delightful charm to the table. The Cloisters residents were especially endearing, creating a warm, inviting atmosphere. Most notably was Fairy May, played by the brilliant Nel Blinman. Blinman's comedic timing and energetic nature truly captured the familial aspect of the show. Starkly contrasting Blinman's enthusiasm was the Savage step-children trio, namely Titus (Sam Bailey), Lilly Belle (Julia Halpern), and Samuel (Jack McCullough). Their snooty, arrogant, and bratty attitudes proved that money is the root of all evil. Bailey, Halpern, and McCullough perfectly captured how their characters were driven by greed and greed alone.

Harriton's production teams nailed every aspect of this performance. Along with having a black and white set, every prop was carefully selected for this show. Whether it be the student-made parcheesi board, a wall mounted dartboard, or antique radio, the props were flawless. The costumes were just as seamless (pun intended)! A concurrent theme of good vs evil was shown through the black and white costume design. And, to add in some additional flair, each character was given their own pop of color!

Harriton's The Curious Savage combined melodrama, comedy, and family into one package, and tied it with a technologically-stunning bow!

Anna Walmsley – Upper Merion Area High School
To learn more about the Cappies Program, visit cappies.com/gpc.
Promotional Videos