January 8th-11th, 2020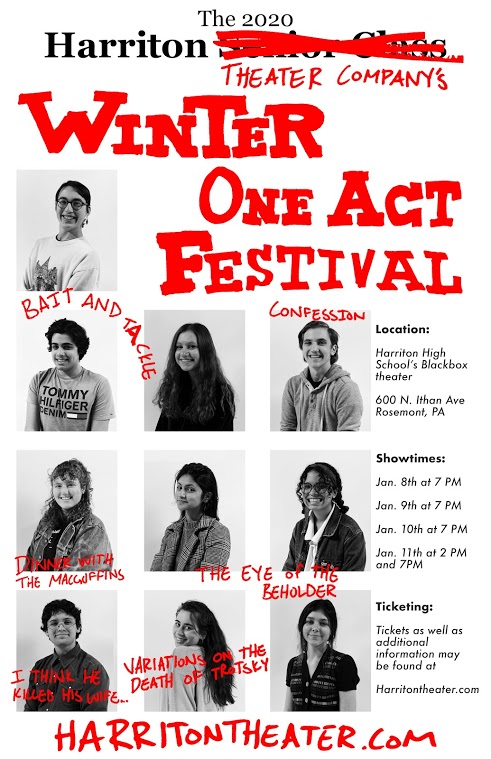 Synopsis
Harriton Theater Company's Winter One-Acts are student directed short shows ranging from comedies to drama. A longtime HTC tradition, the One-Acts give seniors opportunities to direct, as well as actors a place to explore their talents in non-conventional roles.
The 2020 One-Acts and Casts
Bait and Tackle, written and directed by Henry McCullough, Riley Wexler, and Emily Wright: When Gwendolyn Jane Louise begrudgingly agrees to work at Whistlin' Joe's Bait and Tackle, she accepts that her summer will be filled with monotonous work. However, she soon finds out that small towns hold the biggest secrets. Big, swampy secrets.
Gwendolyn – Gwen Rix
Whistlin' Joe – Dashiel Albright
Hackin' Earl – Paige Mullen
The Oracle – Tess McCullough
Clarence – Charlie Bowser
Edward Wormington III – Patrick McCann
Wilhelmina – Angelina DeMonte
Mailman Myrla – Marlena Marg Bracken
Swamp Thief – Julia Youakim
Confession, written by Bobby Keniston and directed by Noah Shelanski: Model student Connor K wakes up one morning to find himself in his high school's conference room, being interrogated by the principal. How he got there, Connor doesn't know, but the principal is insistent that the only way out of the room is for Connor to confess to a crime that he couldn't have committed — in fact, he doesn't even know what he is being accused of!
Connor K – John Bradbeer
Ms Delisle – Liv Twomey
Mr Demeteri – Sophie Baskin
Mr K – Dashiel Albright
Mrs K – Freya Norwood
Abigail – Dinah Day-Booth
Thomas – Alycia Kaufman-Wright
Lucy – Lucy San Chirico
Dinner with the MacGuffins, written by Chris Sheppard and Jeff Grove and directed by Julia Green: At first glance, James MacGuffin's life seems 110% normal: he has a girlfriend, delightfully annoying parents, and a crazy old grandpa who barely knows his left from his right. Yet in a wall-shattering turn of events, James comes to realize that his reality is about as far from ordinary as you can get. Relationships are altered, secrets are revealed, and the viewers learn a thing or two about audience etiquette.
James – Cameron Parker-Horshaw
Karen – Bridget Armon
Helen – Sophia Fox
Dwight – Gabriel Klaumenzer
Grandpa – Sammy Biglin
Plant – Ofek Eisenbach
Agent Smith – Marlena Marg Bracken
Agent Wesson – Lorraine Ruppert
The Eye of the Beholder, directed and adapted for the stage by Iqra Ataf, CJ Bowser, and Maren McDonnell: Janet Tyler has undergone her eleventh treatment (the maximum number legally allowed) in an attempt to look normal. Unable to bear the bandages any longer, Tyler pleads with the doctor and eventually convinces him to remove them early, leading to a face reveal you will never forget…
Janet – Audrey Sigler
Main Nurse – Alycia Kaufman-Wright
Nurse 2 – Lucy San Chirico
Nurse 3 – Lucie Edmonds
Doctor – James Twomey
Leader – Sammy Biglin
Serling – Alice Deutsch
Smith – John Bradbeer
I Think He Killed His Wife…, written and directed by Maxwell Leis: When a wife-killer (Charles) strikes again, a sheriff and their team of deputies must hunt down the perpetrator.
Sheriff – Sam Bailey
Deputy Clark – Alice Deutsch
Deputy Mark – Charlie Bowser
Charles/Murderer – Maddie Lefkowitz
Concierge – Katie Neary
Valet/Count/Dead Wife – Julie Wright
Variations on the Death of Trotsky, written by David Ives and directed by Kristiana Filipov: "On August 21st, 1940, a Spanish Communist named Ramon Mercader smashed a mountain-climber's axe into Trotsky's skull in Coyoacan, a suburb of Mexico City. Trotsky died the next day." This play is an often humorous, occasionally philosophical account of what happened in the hours between the smashing and Trotsky's death.
Trotsky – Patrick McCann
Mrs Trotsky – Kari Stein
Ramón – Sophie Baskin
Promotional Video