November 14th-17th, 2018
Synopsis
Sherlock Holmes is a fictional creation of Arthur Conan Doyle. First appearing in print in 1887's A Study in Scarlet, the character's popularity became widespread with the first series of short stories in The Strand Magazine, beginning in 1891; additional tales appeared from then until 1927, eventually totaling four novels and 56 short stories. The character of Sherlock Holmes was inspired by the real-life figure of Joseph Bell, a surgeon at the Royal Infirmary of Edinburgh, whom Conan Doyle met in 1877. Like Holmes, Bell was noted for drawing broad conclusions from minute observations.
Recognizing the success of the character, Conan Doyle decided to create a play based on Holmes. The script was later rewritten with the help of American stage actor, William Gillette. Gillette visited Conan Doyle to request permission not only to perform the role but also to rewrite the play.
The play itself drew material from Conan Doyle's published stories "A Scandal in Bohemia", "The Final Problem", and "A Study in Scarlet", while adding much that was new as well. Doyle was credited as a co-author, even though Gillette actually wrote the play. It premiered on Broadway in 1899, and has seen unending success ever since.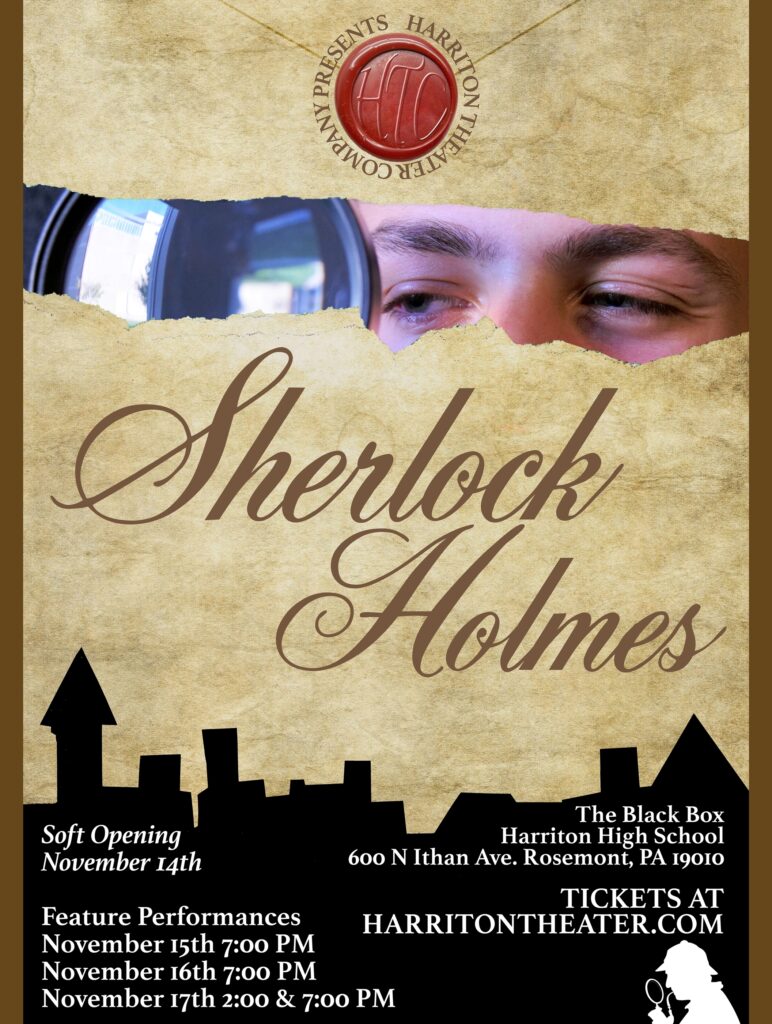 Cast List
Sherlock Holmes – Ben Newman
Dr. Watson – Jackson Eisner
Madge Larrabee – Nina Gold
James Larrabee – Arrion Johnson
Alice Faulkner – Audrey Sigler
Sidney Prince – Jaspar Albright
Professor Moriarty – Allegra Greenawalt
Bassick – Julia Green
Forman – Jacqueline Kelly
Craigin – Sammy Biglin
Leary – Cliffe Edmonds
McTague – Angelina DeMonte
Therese – Julia Hoeffner
Parsons – Andreas Kaiser
Sir Edward Leighton – Patrick McCann
Count von Stalburg – Will Coleman
Newsboy – Gage Klaumenzer
Ensemble – Ashley Sydnor, Wendy Kelly, Cori Mastin