November 21st-23th, 2019
Synopsis
Tony-winning Peter and the Starcatcher upends the century-old story of how a miserable orphan comes to be The Boy Who Would Not Grow Up (a.k.a. Peter Pan). A wildly theatrical adaptation of Dave Barry and Ridley Pearson's best-selling novels, the play was conceived for the stage by directors, Roger Rees and Alex Timbers, and written by Rick Elice, with music by Wayne Barker. From marauding pirates and jungle tyrants to unwilling comrades and unlikely heroes, Peter and the Starcatcher playfully explores the depths of greed and despair… and the bonds of friendship, duty and love.
A young orphan and his mates are shipped off from Victorian England to a distant island ruled by the evil King Zarboff. They know nothing of the mysterious trunk in the captain's cabin, which contains a precious, otherworldly cargo. At sea, the boys are discovered by a precocious young girl named Molly, a Starcatcher-in-training who realizes that the trunk's precious cargo is starstuff, a celestial substance so powerful that it must never fall into the wrong hands. When the ship is taken over by pirates – led by the fearsome Black Stache, a villain determined to claim the trunk and its treasure for his own – the journey quickly becomes a thrilling adventure.
Featuring a dozen actors portraying more than 100 unforgettable characters, Peter and the Starcatcher uses ingenious stagecraft and the limitless possibilities of imagination to bring the story to life.
Cast List
Boy (Peter) – Aiden Kaliner
Prentiss – Julia Hoeffner
Ted – Sammy Biglin
Lord Aster – Andrea Kaiser
Molly Aster – Angelina DeMonte
Mrs. Bumbrake – William Coleman
Captain Scott – Maya Pasternack
Grempkin/Hawking Clam – Julia Youakim
Bill Slank/Teacher – Kristiana Filipov
Alf – Julia Green
Mack – Katie Neary
Black Stache – Henry McCullough
Smee – Audrey Sigler
Sánchez – Antonio Corcino
Fighting Prawn – Maddie Leftkowitz
Jonesy (Sailor) – Ava Susser-Stein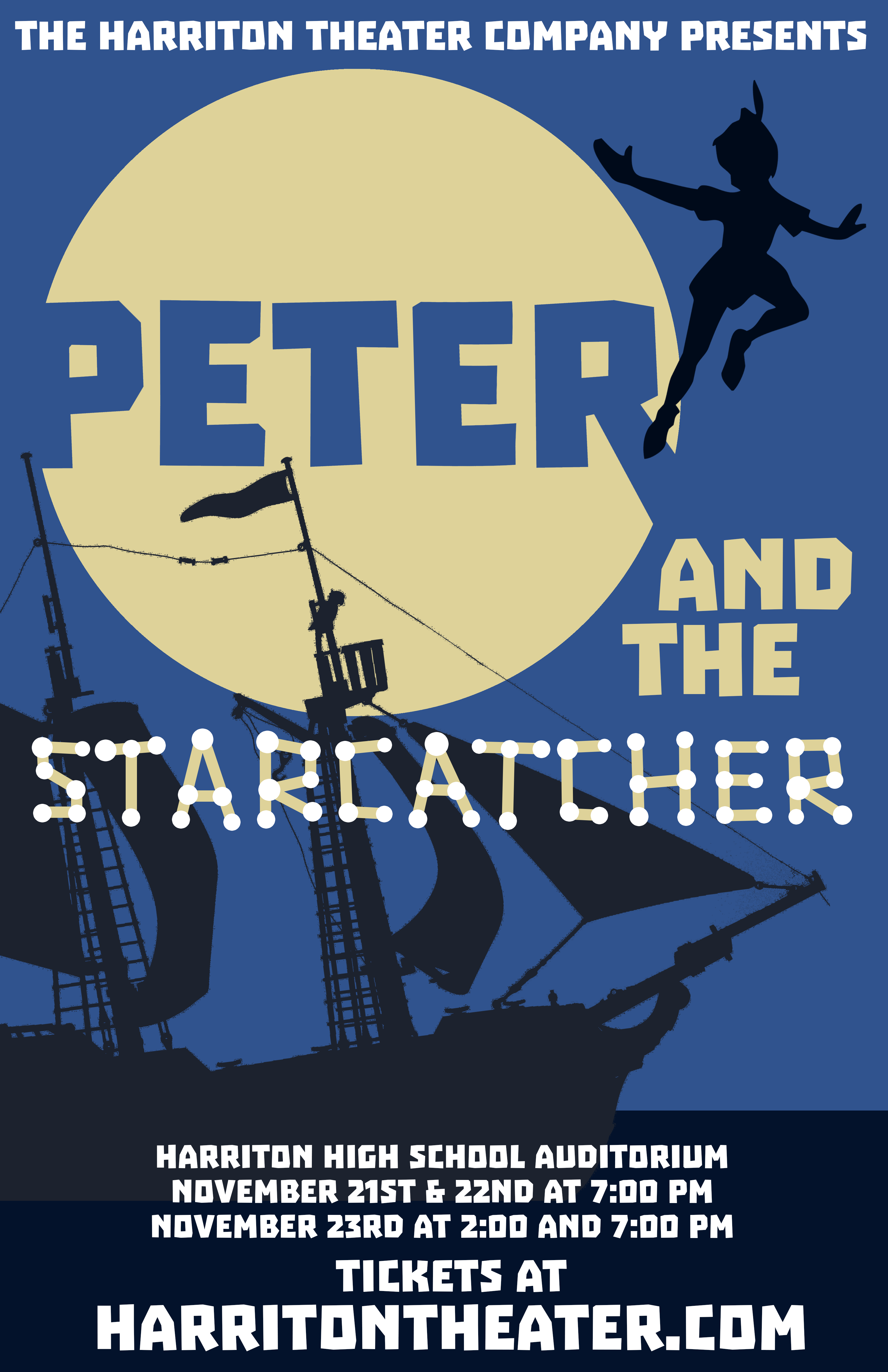 Reviews
Thank you to the Cappies critics who came and reviewed HTC's production of Peter and the Starcatcher. The following two reviews were chosen to be published in The Philadelphia Inquirer.
All aboard! Journey along with Harriton High School as they present the tale of Peter and the Starcatcher! Be prepared for stormy waters, severe winds, and a brilliant story.

Inspired by J. M. Barrie's beloved novel Peter Pan, playwright Rick Elice further explored the fantastical world of Neverland. He provided explanations as to how a nameless orphan boy became a hero and a typical black-stashed pirate became the ever-feared tyrannical villain, Captain Hook. The two spend the duration of the story on pirate ships named The Wasp and The Neverland, each attempting to win sacred treasure and protect their respective crews.

Harriton took every measure to transform their regular high school auditorium into raging seas fit to host rival pirate ships. This production displayed significant commitment to the art of storytelling. Every technical department was entirely student run, and the dedication put forth shone through at every turn.

Henry McCullough (Black Stache) brought so much life and energy to every scene in which he was featured. Every line, joke, and quip was delivered with excellent comedic timing and no shortage of "Starstuff." Angelina DeMonte (Molly) led her shipmates (including title character Peter Pan), as well as the rest of the cast, with grace, flair, and a very convincing English accent.

Audrey Sigler (Smee) kept the audience in stitches by fully delving into her character and utilizing hilarious physical comedy. In addition, Julia Green (Alf) and William Coleman (Mrs. Bumbrake) elevated their romantic story line with whimsy, beautiful harmonies in each of their songs, and plenty of playful chemistry.

This performance was filled with many impressive technical nuances. The Harriton Pit Orchestra enhanced each scene transition with professional caliber music. While there were occasional instances of the songs overpowering the actors, the cast quickly recovered each time. Prop masters Maren McDonnell and CJ Bowser created and operated a life-size crocodile, complete with glowing red eyes and terrifying roar sound effects. Furthermore, the lighting successfully conveyed transitions and changes of location with style.

Harriton's endlessly talented cast and skilled stage crew came together to create a funny, thought provoking and outstanding performance.

Lisa Green – Friends' Central School
Stop by Harriton High School to catch the magic of childhood and the wonder of friendship in their latest production, Peter and the Starcatcher.

Peter and the Starcatcher tells the timeless story of Peter Pan. The script, adapted by Rick Elice, is based on the 2004 novel by Dave Barry and Ridley Pearson, and serves as a prequel to the classic tale of Peter Pan, offering origin stories for the central characters.

The story begins with a spectacular mix up involving two identical trunks onboard two sea-faring vessels. Lord Aster, protecting the trunk filled with a powerful substance known as startstuff, travels on one, while his daughter, Molly, and a trio of unfortunate orphans are aboard the other. A few betrayals and trunk mixups by a devious captain and some undercover pirates result in utter chaos and one of the orphans going overboard, along with the trunk full of starstuff. Act Two picks up on a strange island filled with angry natives and a hungry crocodile. Starstuff from the trunk leaks out, turning fish into mermaids, a friendly bird into a sparkling fairy, and growing orphans into ageless boys.

Aiden Kaliner played the nameless orphan who later became Peter Pan, displaying his prickly pride and underlying desire for connection. Angelina DeMonte brought self-confidence, compassion, and charm to the role of Molly Aster. The wicked pirate Black Stache, played by Henry McCullough, filled the stage with his flamboyant character and dramatic monologues. Luckily, his chaotic charisma and hysterical malapropisms were faithfully kept in check by his right hand man.

Audrey Sigler, as Smee, wore an energetic and effusive smile, despite the scorn and needy demands of her boss, Black Stache. Maddie Leftkowitz embodied a bitter and ferocious savage as the stern leader Fighting Prawn. Julia Hoeffner and Sammy Biglin created a dynamic duo as the orphans Prentiss and Ted, although Hoeffner's bossy orders as the self-acclaimed leader did little to sway the food-obsessed Biglin.

The show took place in a student-built black box theater, created directly on the mainstage. Noah Shelanski and Sam Gerike not only constructed the versatile central platform, but also the surrounding tiers of seating. The artistically simple sets were complemented by the elaborate lights, which transported the audience from the stormy seas, to a tropical jungle, to a mysterious lagoon, using various colors and patterns. Maren McDonnell and CJ Bowser supplied thoughtful and fun props, including a fork-and-rolling-pin sword, as well as an enormous, leering crocodile.

An almost entirely student-run show, Peter and the Starcatcher was filled with energy, humor, heartbreak, and a little bit of magic. Harriton High School's creativity and dedicated efforts brought to life a beloved tale that never gets old.

Hope Odhner – Academy of the New Church
To learn more about the Cappies Program, visit cappies.com/gpc.
Promotional Video