April 21st-23rd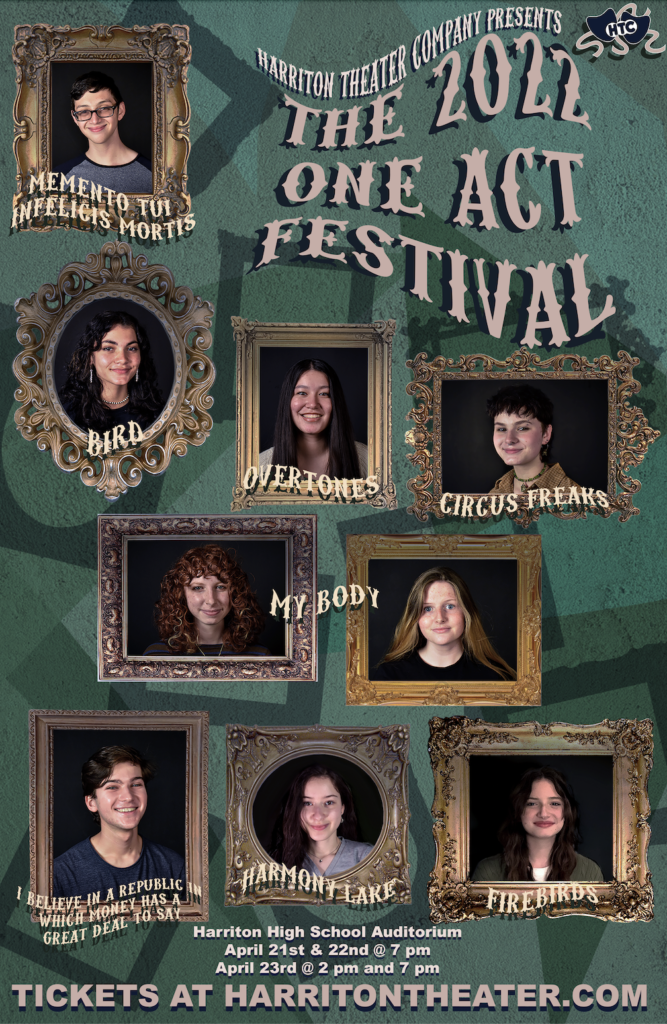 Synopsis
The 2022 One-Act Festival is comprised of 8 student-directed plays, 3 of which are also student-written. With over 30 students involved in blocking and rehearsing these shows, as well as students designing other aspects of the show, all of HTC is excited to present the first One-Act Festival since 2020!
The 2022 One-Acts and Casts
Overtones, written by Alice Gerstenberg and directed by Freya Norwood: A (spiteful) conversation between two (jealous) poised society women is complicated by the nagging voices of their inner selves (who expose them for what they really want to say!).
Harriet – Liv Twomey
Hetty – Callan O'Sullivan
Margaret – Ava Marcus
Maggie – Sharon Spodak
Firebirds, written by Liz Flahive and directed by Bridget Armon: Two best friends who have planned their entire lives together struggle to maintain their friendship when one of them gets rejected from their dream school.
Jennifer – Ally Fenton
Jessica – Anna Fleur
Adam – Cameron Parker-Horshaw
Memento Tui Infelices Mortis, written and directed by Gage Klaumenzer: As a group of teenagers are hunted by a masked killer, they find shelter in a cabin in the woods. The teens begin to rely on their survival instincts, and perhaps this group of friends may not be as friendly as they seem.
Leon – Hayden Picker
Bella – Ava Marcus
Ashley – Maya Pastermack
Clover – Anna Fleur
Emily – Ava Susser-Stein
Matt – Aron Shaw
Circus Freaks, written and directed by Nel Blinman: A snapshot of the life of Clown, a nonbinary teenager, as it faces adversity, conflict, and the raw realities of queer teenhood. Not all clowns are happy.
Clown – Izzy Levit
Mime – Bee Edmonds
The Puppeteer/Psychic – Nel Blinman
The Ringmaster/Contortionist – Lucy San Chirico
Harmony Lake, written by Timothy M. Gadomski and directed by Anjali Rooney: An annual friendly fun family camping trip in Northern Pennsylvania takes a turn for the worst as a storm begins to brew on the lake.
Nathaniel – Sam Bailey
Brittany – Nidhi Cheeyandira
Claire – Alice Deutsch
Paul – Charlie Bowser
Janice – Bee Edmonds
Vincent – Jack McCullough
Bird, written and directed by Angelina DeMonte: A wish on a well comes true but nothing is as it seems! After making a whimsical though convoluted wish, Lonan and his friends must figure out a way to undo it before all of New Jersey is underwater!
Lonan – Cameron Parker-Horshaw
Cal – Jack McCullough
Ellis – Tommy McShane
Leva – Sofia Siano
Narrator – Pearl McShane
My Body, written by Rachel Bublitz and directed by Liv Twomey and Hannah Kraus: In a world in which men aren't trusted to make decisions concerning their own bodies, women hold all of the cards. 
Laura – Lucy San Chirico
Patrick – Sam Bailey
i believe in a republic in which money has a great deal to say., written by Julia Specht and directed by Aiden Kaliner: We're planning a ball in Newport! We're serving tiger! Diphtheria is for poor people!!!!!
Alva Vanderbilt – Marlena Marg Bracken
Theresa Oelrichs – Alice Deutsch
Mamie Stuyvesant Fish – Samantha Simon
Bess – Maya Pasternack
Promotional Videos