March 31st-April 2nd
Synopsis
Mamma Mia!, the hit musical featuring ABBA's most well-known songs, hits the Harriton stage this Spring.
This timeless smash by Catherine Johnson tells the story of Sophie on the search for her father, transporting audiences all the way to tropical Greek paradise! Mamma Mia! features Sophie and her mother, Donna, preparing for her wedding. Dreaming of the day her father walks her down the aisle, Sophie discovers that there are three possible fathers! After she secretly invites all three to her wedding in hopes of finding her true father, nothing is as clear as she thought. This enchanting and loving story is sure to be a sensation.
Dance, jive, and have the time of your life with HTC from March 31st to April 2nd for this fun, magical, disco wedding!
Cast List
Donna Sheridan – Liv Twomey
Sophie Sheridan – Anjali Rooney
Tanya – Freya Norwood
Rosie – Julia Halpern
Sam Carmichael – Sam Bailey
Bill Austin – Cameron Parker-Horshaw
Harry Bright – Nel Blinman
Sky – Aiden Kaliner
Lisa/Chorus – Ava Marcus
Ali/Chorus – Angelina DeMonte
Katie/Chorus – Katie Neary
Pepper/Chorus – Oscar Medina
Eddie/Chorus – Jacob Myers
Priest Alexandrios/Chorus – Ava Susser-Stein
Young Donna/Chorus – Cara McGowan
Young Harry/Chorus – Ariana Pavri
Chorus – Elizabeth Clancy, Ally Fenton, Everette Greenberg, Lillian Klatte, Jack McCullough, Pearl McShane, Maya Pasternack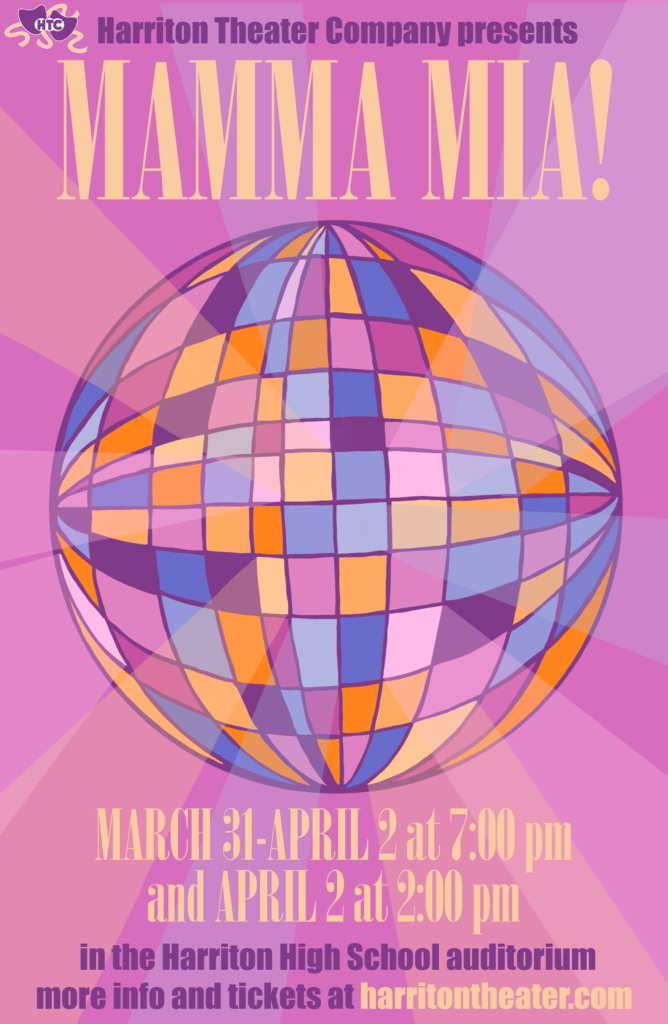 Reviews
Thank you to the Philadelphia Independence Awards for reviewing HTC's production of Mamma Mia!
This show was so much fun to see. The cast, crew, and orchestra work so well together. They were so excited to be on stage. Excellent Costumes, Makeup, Scenic Design and Student Leadership all allow the cast to put on the show.
Consider me incredibly impressed at your student choreographers. The choreography was fun, age-appropriate, and show-appropriate stylistically. I could see where they were trying to push people out of their comfort zones and give them a challenge, and their peers rose to the occasion.
One high point of the show where the story did come across was during the song "Voulez Vous", when each of the adult men suddenly becomes aware of their potential paternity. Here the cast and ensemble came together well, and I understood the stakes and believed in the growing relationships between Sophie and her three Dads.
Scene changes and light cues all seemed to go off without a hitch, so I give a lot of credit to your stage management team. The lights were well-used and created a diversity in the stage space that could not have been achieved with a set alone. Speaking of the set, I was very impressed! I loved the functionality of it all, and to see a workable two-story structure like that is rare outside of professional theater companies.  The costumes were so much fun! The funky disco jumpsuits for Donna and the Dynamos were absolutely perfect!
With respect to the marketing & publicity, I liked the branding, and the fun videos. The social media campaign was bright and positive. Congratulations to this talented group!
Promotional Videos